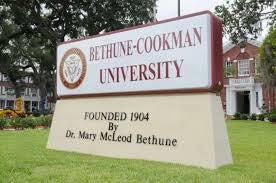 Scholarship controversy between HBCU Bethune-Cookman University and NBA star Vince Carter's Foundation leaves unanswered questions 
Bethune-Cookman University is looking into whether money from NBA player Vince Carter's non-profit foundation has actually been paid to B-CU for scholarships they claimed to have paid on their 990 tax forms.

At the beginning of the investigation we learned B-CU and Carter's foundation, The Embassy of Hope, partnered to bring incoming students with a GPA of at least a 3.2 and who were less likely to attend college to the university. Those recruited students would be recipients of full academic scholarships.
However, there is a discrepancy as to who is supposed to pay for the scholarships. The Embassy of Hope claims B-CU is supposed to pay for all of the scholarships. However, B-CU has a different understanding of who the payment should have come from.
According to emails we obtained and through information we received from a source who requested anonymity, B-CU indicate a mutual understanding among staff in the school's accounting department that the scholarships were to be paid by The Embassy of Hope.
We've made several inquiries and have been able to confirm through Vince Carter's mother, Dr. Michelle Carter-Scott, who serves as the Executive Director of The Embassy of Hope and Chair of B-CU's Board of Trustees, that the money was never supposed to be paid from Carter's foundation. Carter-Scott addressed the allegations saying, "It is an error that makes it look like Dr. Michelle Carter-Scott, Vince Carter, The Embassy of Hope, owes Bethune Cookman University money."
When we asked Carter-Scott if The Embassy of Hope had a written agreement with B-CU that stated they were not supposed to pay for the scholarships. Days later, we received an email from Carter-Scott's secretary stating, "We do not have anything in writing that indicates this part of the agreement that was made with former President Edison Jackson. Common sense would indicate if the Embassy of Hope Foundation reneged on any financial responsibility, permission would not have been granted for five (5) years after the inception of the scholarship. As Dr. Carter-Scott has mentioned a few times, at the commencement of each academic year, she sought permission from each sitting President to continue the search for students that would be eligible for this scholarship."
But the initial question remains if the university paid for the scholarships, why did Carter-Scott file 990 tax forms that indicate The Embassy of Hope paid for the scholarships?
We asked whether The Embassy of Hope's tax forms reflected a write-off for the scholarships even though they were not paid by the foundation, Carter-Scott said, "No ma'am. I don't know where that rumor came from."
But, we already had the tax forms filed by the Embassy of Hope from 2014 through 2017. The tax forms state in all caps, "THE ORGANIZATION SPECIFICALLY PROVIDED THREE ANNUAL SCHOLARSHIPS TO HIGH SCHOOL SENIORS LOCATED IN THE LOCAL COMMUNITY TO CONTINUE EDUCATIONAL PURSUITS AT THE COLLEGE LEVEL WHO WOULD OTHERWISE NOT BE ABLE TO AFFORD THE TUITION."
Under "grants and similar amounts paid" on the tax forms, there is a dollar amount written on that line on the foundation's 990 tax forms for tax exemption.
We contacted B-CU numerous times but only received a statement from their spokesperson that read, "Because of our donor confidentiality, we cannot confirm or deny information regarding any donors, the amount, timeline or fund(s) they support without their consent."
We also reached out to the school's legal department but did not get a response back.
B-CU has been publicly criticized for splurging $306 million on a dormitory under former President Edison O. Jackson's administration. Although Jackson is no longer at the university, a lawsuit is still pending against the university over the controversial and expensive dormitory deal.
The school was already struggling financially yet took the multi-million dollar loan with ballooning monthly payments of 1.5 percent per year. The payments on this loan start at $470,000 per month. However, by the time the agreement ends in 40 years, the payments will have ballooned to $840,000 per month. The dormitory construction costs were initially $72 million dollars however that figure has changed. Now, the costs have risen to $85 million.
In a statement given by B-CU's alumni association's President Robert DeLancy, he says Carter-Scott failed to fill her obligation to the scholarship fund. Carter-Scott maintains she was only supposed to find the students, not fund it. However, emails from the school's accounting department refute that. In an email dated June 7, 2018 the Director of Financial Aid asks, "in 2014, the fund started as an annual scholarship from the Vince Carter Foundation. Where have the funds been coming from if not from the Vince Carter Foundation?" A response back from another B-CU employee in accounting stated, "I honestly couldn't tell you. I have NO RECORD of this scholarship in my database. I have NO RECORD of a Vince Carter Foundation in my database. The database only consists of the 'Embassy of Hope Foundation, Inc.' of which I know to be as the charity that the Carter/Carter-Scott/Scott family is associated with. I have NO RECORDS of any gifts from the said charity to any scholarship funds." Furthering our investigation, we found another email the Staff Accountant in the Division of Finance and Business Affairs stating, "From my understanding we do not receive any funds for this scholarship and the University has essentially been paying for this scholarship."
After our investigation surfaced, Dr. Grimes said in a press conference, "Sometimes grown folks have differences of opinions. Ok and that's why we've learned how, today in particular, to be able to try to put those differences aside and work closely for the benefit of our institution. We have a financial recovery plan that has been presented to our board and we are going to try to work diligently to address those issues."
In the same press conference, Carter-Scott said, "I am committed to Bethune Cookman-University. I am committed to working together with our interim President. I have the ability to lead this board. We need just to be focused on the big picture. The big picture is saving Bethune Cookman-University. The big picture…I am an alum, 1970's ok. We want Bethune Cookman-University to be here for another 50, 60, 70, 100 more years and we are committed."
Frustrated alumni took to social media while the press conference went live on Facebook.
Shanie P. Levasseur posted on Facebook as the press conference was underway, "As an alumnus I don't feel satisfied with these responses."
Monique Darby responded to Carter-Scott's comment about being an alumna posting, "You can be alumni and still be a crook."
Back in February a group called the Confirmed Constituents Committee laid out a plan that calls for a complete audit of the university's finances from 2012-2017.
Grimes says BC-U has a $300 million impact. Grimes also said the accreditation of the university remains in tact however admitted the university is on probation.