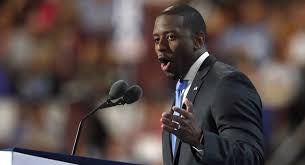 After a stunning win over front-runner Gwen Graham in the primary race for governor, Tallahassee Mayor and Florida Gubernatorial candidate Andrew Gillum answers our questions regarding the bold positions he's taking to become Florida's next Governor.

When Sade Dixon, her unborn child and subsequently Officer Debra Clayton were allegedly murdered by Markeith Loyd, Orange and Osceola State Attorney Aramis Ayala made a statement on the courthouse steps that she would not enforce the death penalty in the case of accused killer Markeith Loyd or any other case that may warrant it, contrary to the Constitution.
That sparked controversy on both sides of the aisle resulting in Governor Rick Scott taking a total of 27 potential death penalty cases away from Ayala. Ayala sued Scott in the Florida Supreme Court and lost. If Gillum is elected in November, his position will be opposite of Governor Rick Scott's and the Florida Supreme Court.
Gillum told us, "I truly appreciate how dedicated State Attorney Ayala is to justice and the people of Central Florida. I have called for a moratorium on the death penalty to study the biases that some studies have shown exist in our application of it."
Back in January when Clayton was gunned down and killed in a Wal-Mart trying to apprehend Loyd, Seth Clayton, Debra Clayton's husband, referring to his wife as the love of his life, was quoted by Orlando Police acting chief Robert Anzueto saying, "My closure will be when Markeith Loyd is six-feet under." Sheriff Demings spoke to Clayton's mother who said, not pursuing the death penalty is a "slap in the face."
We asked Gillum if he plans on giving Ayala back the 27 cases Scott removed from her. Gillum didn't directly answer the question but said, "I support Attorney Ayala and her visionary leadership on this issue and many more reforms including the elimination of cash bail. I look forward to ensuring local prosecutors are able to make their own decisions - not be overruled by the Governor."
Gillum said he plans to unite the state and appeal to voters who are unsure that he will take on their issues saying, "We're fighting to unite Florida by confronting head-on the issues that concern Florida voters. At a time when nearly half of Floridians struggle to make ends meet, we must raise the minimum wage to a living wage of $15, give our veteran teachers and staff a pay raise up to the national average, boost pay for new teachers to $50,000 and so much more."
We also asked the current Tallahassee Mayor how he explains his position of supporting Israel over Palestine, or as it's commonly called, anti-BDS which is a position that left some of his most loyal followers to question that position.
Gillum's Communications Director, Geoff Burgan, chimed in and answered that question. "The Israeli-Palestinian conflict goes back generations and is not solvable overnight. As a global citizen, Mayor Gillum is committed to working towards a peaceful solution in the Middle East. He will always support free speech and the right to peaceful protest. As Dr. King said, 'Unity has never been about uniformity.' Florida is home to diverse peoples with diverse opinions on a range of issues. While he does not support the Boycott, Divestment, Sanction movement – he believes it is his responsibility as Governor to uphold the Constitution of the United States of America and protect the rights of all Americans to engage in free speech activities."
Finally, Gillum added, "We have to run unapologetically on what we believe in- an economy that works better for everyday Floridians, better jobs with dignity, more investments in our public schools and an end to the gun violence epidemic that has plagued Florida. We'll bring important change to the Legislature to fight for working families."
Gillum and his running mate, Chris King, kicked off their campaign in Orlando in hopes of securing the support of voters along the I-4 corridor.